Sophia does the website, marketing, packaging and all our customer contact.
We develop the kits together but because of the "Stefan effect" (everything works first time like magic), Sophia has to be the first tester.  This is so (in Stefan's words), we can see; "How a young child would put this together".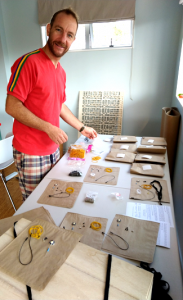 Stefan loves designing and making our kits but occasionally, Sophia makes him pack them up so he can 'experience all the areas of the business".
His favourite bit is coming up with crazy ideas like a hat covered in lights, or a suit made of wood.  Perhaps one day Stefan.
In-laws Sophia and Stefan Sharpe run SharperThinker.  Here we are packing up our kits ready for you to order!
We live in different parts of New Zealand and both have teenage sons.
We wanted our own kids to love learning science and physics so we decided to make quality STEM kits that teach electronics hands-on.
GOOD STUFF - MAKE IT REAL
We decided to make kits that 'make good stuff'.
For us, this means making something real you can actually use (like a torch), or a collection of bits that allow you to continually make things - open-ended development and play.
We also choose modern electronics and designs so children start to recognise these.  No little incandescent lightbulbs!  We use LEDs, resistors - the electronics children will see inside any modern appliance.
GOOD STUFF - THE ENVIRONMENT
"Good stuff" also refers to the environment.  We wanted to make eco-friendly science kits.
Recycling is ok but we know that reusing is better.  It's better to make something that you use lots of times first, then know that you can rot or burn the wood and end up with very little that goes to landfill.  We use 100% paper packaging that you can reuse first, then recycle or compost.
When you buy from us, you know that people got paid fairly, you're holding a quality NZ made product, it's made from non-rainforest wood and it's been designed by educators and parents.
GOOD STUFF - SKILLS
With our own kids we realised that our 'quick fix', 'instant gratification' culture has led to a reduction in our kid's skill levels.  Things we did that we take for granted - how to glue, use a screwdriver, twist a wire, patiently wind things together - we see today's kids struggling with.
We expected that our kits would teach electronics and science.  But we've found the area that they really help with is fine motor and focus.  This was unexpected.
Our kits are a return to focused making and learning.  In 2020, we are bringing out a series of modular kits that teach aspects of electronics.  Each one enables your child to make a STEM product or toy while helping them practice wiring up circuits and understanding concepts such as resistance, solar energy and remote control.  Sign up to our newsletter or follow us on Facebook so you stay in the loop about what we're doing - it's exciting.
Let's turn our back on quick easy stuff.  Funnily enough, when they struggle a bit to make something often the kids are more confident at the end.  And heaps more proud of what they made.
Recently, a friend of the kids went to Rangitoto Island with a group.  As they prepared to go into the caves, he saw a boy with a SharperThinker torch.  "Where did you get that?" he asked him (actually recognising it was one of ours but wanting to see what the boy said).
"I made it myself" was the proud answer.  You can't get any better than that.
Let's get everyone making good stuff again.
Ngā Mihi nui,
Sophia and Stefan