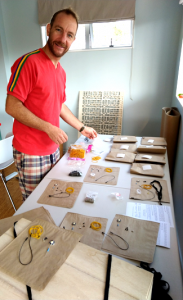 In-laws Sophia and Stefan Sharpe run SharperThinker.  Here we are packing up our kits ready for you to order!
We live in different parts of New Zealand and both have teenage sons.
We're both love making things and got frustrated with the quality of educational kits in the shops.  Our kids often got science kits as presents and found them too easy, too plastic, too boring or too ugly!
We decided to make kits that make something you actually use, or else allow for open-ended free play.  We also wanted to use modern electronics and designs so children start to recognise what these look like.  No little lightbulbs for us!  We use LEDs and resistors - the electronics children will see inside any modern appliance.
We also love the environment and are both greenies - so we decided to use wood (eco-ply) wherever we can.  We use 100% paper packaging and are working so that the components in our kits can be easily re-used - which is far better than recycled (which in turn is better than the dump).
Our kits are designed and made by us so they won't be the same prices you'll see in the big chain stores.   When you buy from us, you know that people got paid fairly, you're holding a quality NZ made product, it's made from non-rainforest wood and it's been designed by educators and parents.
Real skills.  Real wood.  Real Learning.  Real good.