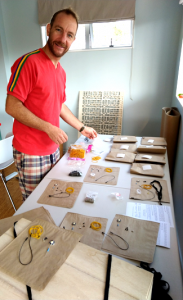 Hi, I'm Stefan.
My Sister in law, Sophia and I started Sharperthinker in 2017. It was a long burning idea, which started out from me teaching my two nephews about electronics over skype. We wanted something more engaging for our kids than the usual plastic available- so after a bit of thinking... Sharperthinker was born.  Sophia has now moved on, but after a bit of a break I decided to continue with what we started. Miki now has taken up the reins for our postout and some packaging. Meantime I have been going through and updating our kits and streamlining production.  I am proud to say all our kits are designed and made right here in New Zealand, and a really big part of what we do revolves around the sustainability of our kits- but also for us too- so forgive me if I don't spend hours on social media promoting our kits- I will be spending that time with my family, or just making the kits better. If you are on social media and enjoyed one of our kits, by all means, tell your friends about us if you want to though! About me- I love to make stuff. I have a varied background- my first "proper" job was as a machinist for an America's cup team. I've been quite into electrical engineering since and everything in between! I've done a bit of teaching of all ages- including in University. Of all the things I get out of making these kits, the best thing is when I get an email from someone with a picture of their completed kit, saying how much they enjoyed making it. 😀
GOOD STUFF - MAKE IT REAL
"Good Stuff" means making something real you can actually use (like a torch).  It's making learning relevant.
We don't hide our electronics inside plastic.  We use 'grown up' electronics so that kids start to recognise the real thing.
GOOD STUFF - THE ENVIRONMENT
"Good stuff" also refers to the environment.  We wanted to make eco-friendly kits.
Recycling is ok but we know that reusing is better.  It's better to make something that you use lots of times first, then know that you can rot or burn the wood and end up with very little that goes to landfill.  We use 100% paper packaging that you can reuse first, then recycle or compost.
GOOD STUFF - SKILLS
With our own kids we realised that our 'quick fix', 'instant gratification' culture has led to a reduction in our kid's skill levels.  Things we did that we take for granted - how to glue, use a screwdriver, twist a wire, patiently wind things together - we see today's kids struggling with.
Our kits are a return to focused making and learning.
Let's get everyone making good stuff again.
Ngā Mihi,
Stefan Sharpe