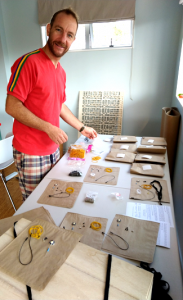 Stefan loves designing and making kits but here he is packing them up ready to go out the door.
In-laws Sophia and Stefan Sharpe began SharperThinker together in 2017.
In Dec 2020, Sophia left to "draw, write and make a few things" but Stefan wanted to keep designing, making and getting kits out the door to people who want the "good stuff".
Stefan lives in Russell, NZ and has teenage sons.
He wants all kids to love physics and science so decided to make quality kits that teach STEM hands-on.
GOOD STUFF - MAKE IT REAL
"Good Stuff" means making something real you can actually use (like a torch).  It's making learning relevant.
We don't hide our electronics inside plastic.  We use 'grown up' electronics so that kids start to recognise the real thing.
GOOD STUFF - THE ENVIRONMENT
"Good stuff" also refers to the environment.  We wanted to make eco-friendly kits.
Recycling is ok but we know that reusing is better.  It's better to make something that you use lots of times first, then know that you can rot or burn the wood and end up with very little that goes to landfill.  We use 100% paper packaging that you can reuse first, then recycle or compost.
GOOD STUFF - SKILLS
With our own kids we realised that our 'quick fix', 'instant gratification' culture has led to a reduction in our kid's skill levels.  Things we did that we take for granted - how to glue, use a screwdriver, twist a wire, patiently wind things together - we see today's kids struggling with.
Our kits are a return to focused making and learning.
Let's get everyone making good stuff again.
Ngā Mihi,
Stefan Sharpe