ebook: Wire up your world!
In our first eBook, we take kids from Beginner to Intermediate level electronics using our Tinker Tiles system.  It's a good first step into real world projects. 
Is it for you? Check it out!
(Update: We all make mistakes!  The key thing to change once you've downloaded this is that the torch circuit needs a 5 to 10 ohm resistor.  NOT 10k which is written there.  At 10k you'll get a feeble sort of glow rather than a bright confident torch!).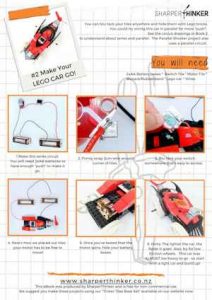 Example project page: Make a Lego Car Go! from eBook 1.  We have two types of pages in this book.
The Project Pages like this one, are loose guides to give kids ideas and spark their interest.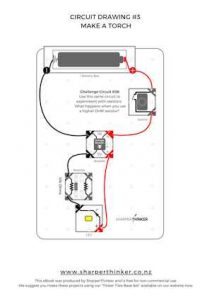 Example circuit drawing.  These pages are an exact circuit.  Print these out and lay over the baseboard to give kids confidence that their wiring is correct.  We also give "challenges" on each circuit drawing for extension learning.
5 original projects that increase in technical level

Clear circuit board drawings you can cut out and lay over your SharperThinker baseboard to show you exactly where to place your wires and tiles in a circuit

Challenge circuits to encourage thinking and experimenting

Guidance about how to wire up Tinker Tiles.
We have written this to accompany the Tinker Tiles Base Set, now available in our online shop.
However, you can adapt most of the circuit drawings with your own hobby electronics.

We wrestled with putting an age on this book.  However, several people asked if it "would be too easy" for their 12-year-old.
The concepts and some of the fine motor skills required are really aimed at Intermediate to early Highschool level.
However, we don't want to stop any young enthusiasts!  Many of our younger Sharper Thinkers get their parents to help them with the tricky bits.
To give some context, circuits start being taught at about year 10  (age 14+) in many New Zealand highschools so you can view this as a headstart!
PRINTING NOTE: Ensure your printer is set to print A4 size so the circuit diagrams print at the correct ratio for the baseboard.  The PDF is 1.2Mb.
This eBook is to get kids thinking and experimenting.  It is 17 pages and is free for non-commercial use (including schools). 
We're so keen to get kids going, we're not asking you to sign-up or jump through hoops to get this eBook.  Just click download and save it to your hard drive.  But please, do not copy or re-post our information or projects without crediting us.
And, if you do like what you see, you might like to get on our mailing list which you can do right here:
ebook 2: Intermediate to Advanced
Our second FREE eBook; A Sharper Thinker's Guide to Electronics, is coming soon and has answers to the "challenge circuits" from book one PLUS a general guide to electronic components such as LEDs (pictured).
It's very hard to find clear explanations of how electronic components and circuits work - at least, it's hard to find explanations that make sense to a learner.
We've written Book 2 for this reason.  It starts at the beginning with batteries and circuits and goes up to resistors.  It is more text heavy than Book 1 but does still include more circuit drawings to try.
Our next eBook will go up another step again.   These books do not replace highschool Physics which is several jumps above.
Our aim is to provide the scaffolding needed to give kids a hands-on start into the world of electronics.
Sign up to our mailing list if you would like to be advised about when this eBook comes available.